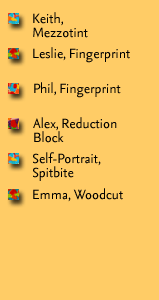 Home > Learning Resources > Teacher's Packet > Viewing Prints > Phil, Fingerprint


Phil, Fingerprint
Lithography is a process in which the prints are made using a limestone. The image is drawn on the stone using a greasy material, then the stone is dampened, and ink is rolled over the surface. The ink stays on the greasy areas while it is repelled from the other areas. Paper is applied to the stone and the image is printed. For this work, Close applied the greasy material with his fingers, leaving the impression of his fingerprint behind.
Questions:

Elementary

1) Would you want this print in your house? Why or why not?

Elementary/Secondary

1) Close makes portraits of just faces. What are other ways to make a portrait? Does a portrait have to include a face? Why or why not?

2) What do you think about his use of the grid in these works?