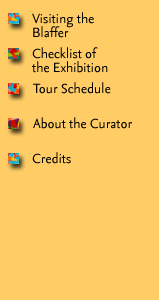 Home > Exhibition Information


Chuck Close Prints: Process and Collaboration September 13 through November 23, 2003
For more than 30 years, Chuck Close—renowned as one of America's foremost artists in any media—has explored the art of printmaking in his continuing investigation into the principles of perception. This exhibition provides a comprehensive survey of the full extent of Close's long involvement with the varied forms and processes of printmaking, and the first such investigation in more than twelve years of what can only be termed a prodigious accomplishment in the field. Featuring images ranging from 1972 to the present, Chuck Close Prints shows the artist's range of invention in etching, aquatint, lithography, handmade paper, direct gravure, silkscreen, traditional Japanese woodcut, and reduction linocut, among others. The exhibition includes approximately 125 images, and is designed especially to highlight several series of state and progressive proofs to provide viewers with a seldom-seen view of the technical and creative process required to realize these complex images.

Chuck Close Prints: Process and Collaboration was organized by the Blaffer Gallery, the Art Museum of the University of Houston.

The exhibition and publication have been generously underwritten by the Neuberger Berman Foundation.

The exhibition was made possible, in part, by a major grant from Lannan Foundation and Jon and Mary Shirley, and by generous grants from The Eleanor and Frank Freed Foundation and Houston Endowment Inc.

Financial support has also been provided by Jonathan and Marita Fairbanks, Dorene and Frank Herzog, Andrew and Gretchen McFarland, Carey Shuart, and The Wortham Foundation, Inc., with additional funds from Karen and Eric Pulaski, and Suzanne Slesin and Michael Steinberg.

A fully-illustrated catalogue featuring interviews with the artist and master printers by Terrie Sultan, a scholarly essay by Richard Shiff, director of the Center for the Study of Modernism at the University of Texas at Austin, has been published by Princeton University Press. Books can be purchased from Princeton University Press: www.pup.princeton.edu.