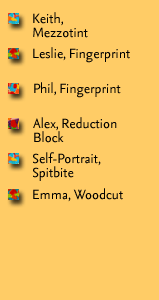 Home > Learning Resources > Teacher's Packet > Viewing Prints > Alex, Reduction Block


Alex, Reduction Block
This work was created in an unexpected way. Due to unforeseen events, the printers could not use good linoleum for carving, or find the right kind of paper to print. Because of this, the master printer was unable to make a good edition of the image. Instead, the team decided to use a silkscreen process.
Questions:

Elementary

1) Have you ever had something that you were working on not turn out the way you wanted it to? What did you do

Secondary

1) Close does not take commissions for portraits. How do you think these portraits would be different, if at all, if they were commissioned?