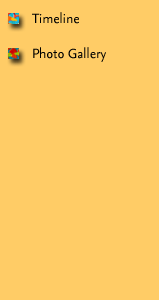 Home > Man &amp His Life > Timeline > 1980's

Timeline: 1980 - 1989

1980
Steve Anderson, from Vermillion Editions in Minneapolis, comes to New York to help Close create his fingerprint lithographs, including Phill/Fingerprint. Close Portraits, Walker Art Center, Minneapolis, Septermber 28-November 16, 1980. Traveled to The Saint Louis Art Museum, December 5, 1980-January 25, 1981; Museum of Contemporary Art, Chicago, February 6-March 29; and Whitney Museum of American Art, New York, April 14-June 21. Catalogue, text by Martin Friedman and Lisa Lyons.

---

1981
Close begins working with independent printer and papermaker Joe Wilfer on an edition of pulf-paper works at Dieu Donn

é

Papermill, in New York City.

---

1982
Chuck Close: Paperwork, Richard Gray Gallery, Chicago, September-October 1982. Traveled to John Stoller Gallery, Minneapolis, October-November; Jacksonville Art Museum, Florida, December 10, 1982-January 19, 1983; Greenberg Gallery, St. Louis, September 10-October 15.

---

1983
Begins fingerprinting in color, the first work being John/Color Fingerprint.

---

1984
Chuck Close: Handmade Paper Editions, Herbert Palmer Gallery, Los Angeles, February 4-March 16, 1984. Traveled to Spokane Center Gallery of Art, Eastern Washington University, Cheney, April 5-May 12; Milwaukee Art Museum, June 1-September 30; NIU Art Museum, Northern Illinois University, De Kalb, October; Columbia Museum of Art, South Carolina, November 18, 1984-January 13, 1985. Catalogue, text by Richard H. Solomon. Begins applying the fingerprint technique to painting, Georgia/Fingerpainting is the first work in this technique.

---

1985
Close creates a series of eleven fingerprint etchings at Graphicstudio in Tampa, with master printer Deli Sacilotto. Working in a method called direct gravure, the artist draws using his inked fingers, although this time on sheets of Mylar rather than directly on the printing plate. Chuck Close: Works on Paper, Contemporary Arts Museum, Houston, February 9-April 21, 1985. Brochure, text by Edmund P. Pillsbury.

---

1986
Close creates his first Japanese-style woodblock print, Leslie, working in Kyoto with Japanese master printer Tadashi Toda and master carver Shunzo Matsuda. Chuck Close: New Etchings, Pace Editions, New York, February 12-March 22, 1986.

---

1988
Works in New York with renowned French master printer Aldo Crommelynck on his first spitbite aquatint, Self-Portrait. Close also completes Lucas, a seven-step reduction block/linoleum cut print, working with Joe Wilfer, Ruth Lingen, and Kathy Kuehn at Street Workshop in New York. Chuck Close: Prints and Photographs, Pace Editions, New York, September 23-October 22, 1988. Close is stricken with severe chest pain followed by an intense convulsion, which initially leaves him paralyzed from the neck down. He is diagnosed at the Tisch Hospital, at NYU medical center.

---

1989
Chuck Close, The Art Institute of Chicago, February 4-April 16, 1989. Traveled to The Friends of Photography, Ansel Adams Center, San Francisco, November 8, 1989-January 7, 1990. Catalogue, text by Colin Westerbeck. Chuck Close Editions: A Catalogue Raisonn and Exhibition, The Butler Institute of American Art, Youngstown, Ohio, September 17-November 26, 1989. Catalogue, text by Jim Pernotto. Chuck Close: Works on Paper, Aldrich Museum of Contemporary Art, Ridgefield, Connecticut, October 29, 1989-February 25, 1990.